YOUR GUIDE TO LIGHTING DESIGN FOR YOUR PITTSBURGH HOME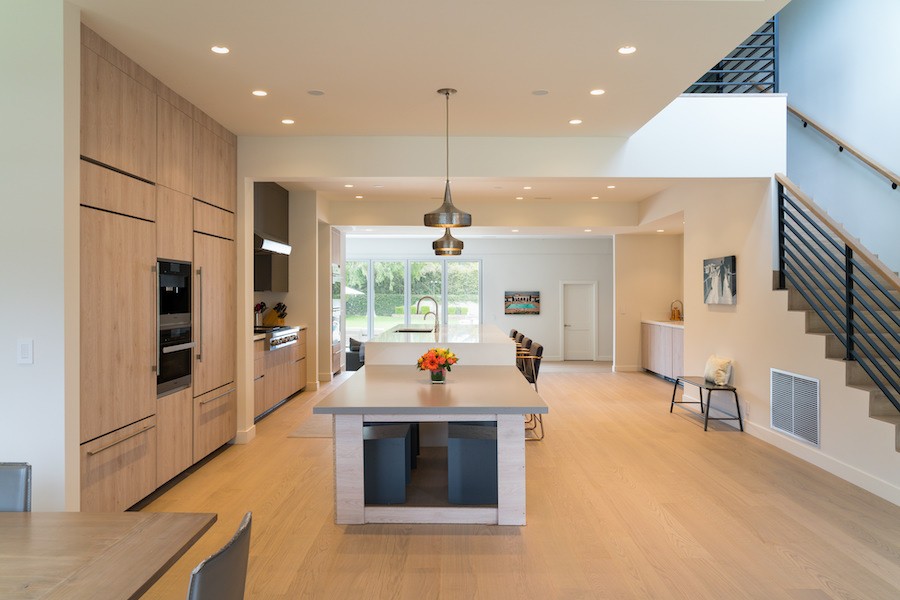 MAKE YOUR HOME MORE RELAXING, SOPHISTICATED, AND SAFE WITH SMART LIGHTING
Lighting does so much more than illuminate your home — it can make a significant impact on your mood, day-to-day lifestyle, and peace of mind. Beyond being functional, lighting can provide entertainment, style, relaxation, and security to you and your family. Whether you're going to start new construction for your home or planning on remodeling, you can incorporate these modern lighting solutions.
Here are some unique lighting design ideas for your Pennsylvania home.
SEE ALSO: Your Smart Home Maintenance Plan is More Important Than Ever
KITCHEN
Your kitchen is where so much activity happens. So many of us drink our morning coffee, watch TV, cook our meals, and entertain in our kitchen. Instead of relying on just natural sunlight to fill the space, or only having one option to choose for kitchen lighting, why not have a range of lighting choices for different occasions? Integrate a wide array of fixtures to incorporate task lighting, accent lighting and overhead lighting for a more beautiful and functional space.
With smart lighting, you create a customized lighting scene for cooking, dinner parties, clean up — whatever you want. If you wish to have bright lights while you cook, you can set that as a scene. For dinner parties, if you prefer softer lighting, you can set that as a scene and activate it with a touch of a button. Not only do preset scenes enhance your kitchen, they elevate your routines and entertainment, too.
BATHROOM
Bathroom lighting is often overlooked. There's no reason to think you can't have fun and get creative with bathroom lights. It's where you get ready in the morning and where you can wind down in the evening. Having personalized lighting in your bathroom can positively impact your mood and start your day off right.
You can install flattering lighting that you can brighten or dim in the mornings while you're getting ready. To further illuminate your space and elevate your bathroom's aesthetics, you can accentuate your space with LED illuminated countertops and mirrors. If you want the lights in your bathroom to change color temperatures throughout the day to mimic natural sunlight, you can incorporate circadian lighting through our Control4 smart home systems.
How about setting the perfect atmosphere for relaxing in your bathtub after work? You can create another customized lighting scene that gives your bathroom a warm glow for those tranquil moments.
LANDSCAPE
Two of the top benefits of landscape lighting are boosting curb appeal and strengthening your home's security. By adding attractive lighting features around your house's exterior, your home becomes more valuable; it also impresses your neighbors and guests. You can integrate your landscape lighting with smart technology, so your fixtures know to gradually turn on as the sun sets and dim slowly in the morning. There's no need to worry about Pittsburgh weather affecting your fixtures throughout the year — weatherproof lights can withstand all the seasons and ensure your home is always well-lit.
Security is another significant benefit of landscape lighting. A well-lit home helps deter intruders from making your house a target. You can add lights to your driveway and backyard to add visibility, and motion sensors that illuminate anyone who tries to sneak up to your home. Landscape lighting is an important step to take to make sure your home is secure.
CONTROL4
What makes your home's lighting system even better is integrating it with a smart home system like Control4. One of Control4's best features is the ability to create custom-tailored lighting scenes — a feature that we described earlier in this blog. Other great features are automated lighting schedules and one-touch lighting control, which lets you access your lighting scenes through your smartphone or in-wall keypads. You can even use voice commands to control your lights hands-free. Lighting isn't the only system you can manage and automate with Control4; you can have your lighting, security, audio, video, and more in one centralized hub and control it all with easy-to-use interfaces.
Simply Automated is passionate about lighting design and helping our clients find personalized solutions that fit their exact needs and preferences. Our team will help you find the ideal fixtures and control solutions for each space in your home for a lighting design that reflects your preferred lifestyle and aesthetics. We're also the only Control4 Certified Showroom dealer in the Pittsburgh region, so visit our design center's designated showroom to demo smart lighting solutions. Find out more by filling out our contact form!