Bring Natural Light into Your Bathroom with Lighted Mirrors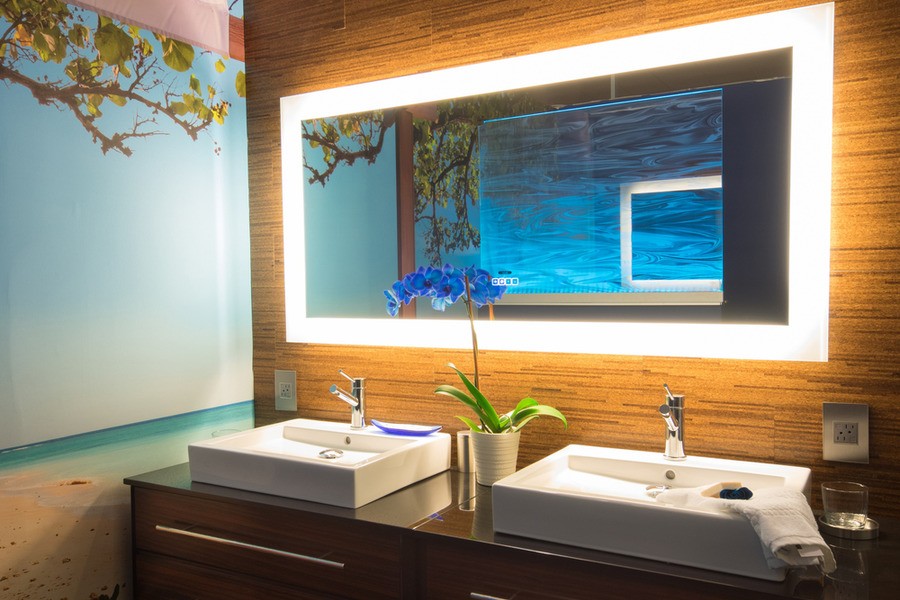 See Yourself in a Better Light by Upgrading to Illuminated Mirrors
Thinking about upgrading your bathroom? If so, the first things that come to mind are usually painting the walls, installing new floors, or getting modern plumbing fixtures. But you probably never thought to install lighted mirrors at your smart home in Pittsburgh, PA. These impressive illuminated mirrors do wonders to elevate the ambiance of any room.
They not only make your bathroom look more beautiful, but they also put you in a wonderful new light. The subtle yet bright lights of a lighted mirror accent your features, giving you the perfect place to primp and prepare for the day - from putting on makeup and hairstyling to other essential activities.
The experts at Simply Automated can seamlessly integrate lighted mirrors from industry experts like Electric Mirror into your lighting design while offering seamless control of this new technology. Explore the benefits of installing easy-to-manage lighted mirrors in your space.
SEE ALSO: Your Guide To Lighting Design For Your Pittsburgh Home
Why You Need a Lighted Mirror
Don't you owe it to yourself to have a well-lit reflection? After all, you need to see your true self. A standard mirror with lights hanging directly over it does not provide the divine illumination you need. Bright lighted mirrors from Electric Mirror give off the right amount of light to shave, apply makeup, and stylize yourself. The light illuminates you from every angle.
At the same time, because these mirrors use LED lights, they do not emit as much heat as an ordinary bulb, which means you'll also save energy! Lighted mirrors come in many varieties to complement your décor. From forward-facing lighting to backlit mirrors, your mirror adds depth, dimension, and daring design to your bathroom, making it more interesting and beautiful.
But to get the most out of these mirrors, they should be part of a comprehensive Control4 system. Whether you want a warm glow for a relaxing evening soak or a more focused light for applying makeup in the morning, you'll get the perfect lighting every time by incorporating your lighted mirrors into an easy-to-use platform.
Illuminated Mirrors from Electric Mirror
Many homeowners make the mistake of choosing items for their homes that are simply functional. They forget that style is important too. That is certainly the case with a mirror. If you're using yesterday's mirror, then it's time for an upgrade.
One of the reasons that we use Electric Mirror products in our projects is that they let you manage the color temperature of their LED fixtures to help create the ideal lighting every time. They also let you choose between different settings from ambient lighting that offers a soft glow to a nightlight one ideal for midnight trips to the bathroom.
We'll make it easy for you to manage your lighting options through a handheld remote, lighting keypad or the smart device of your choice. Save the settings in your Control4 system that put you in the best light into preset scenes that you can pull up when you're getting ready in the morning, so you always start the day feeling and looking your best.
Would you like to learn more about how to incorporate lighted mirrors into your lighting design? Call us at (412) 343-0348 or complete our online contact form to schedule a consultation. We look forward to hearing from you!