ENJOY MOVIES AT HOME WITH YOUR OWN HOME THEATER SYSTEM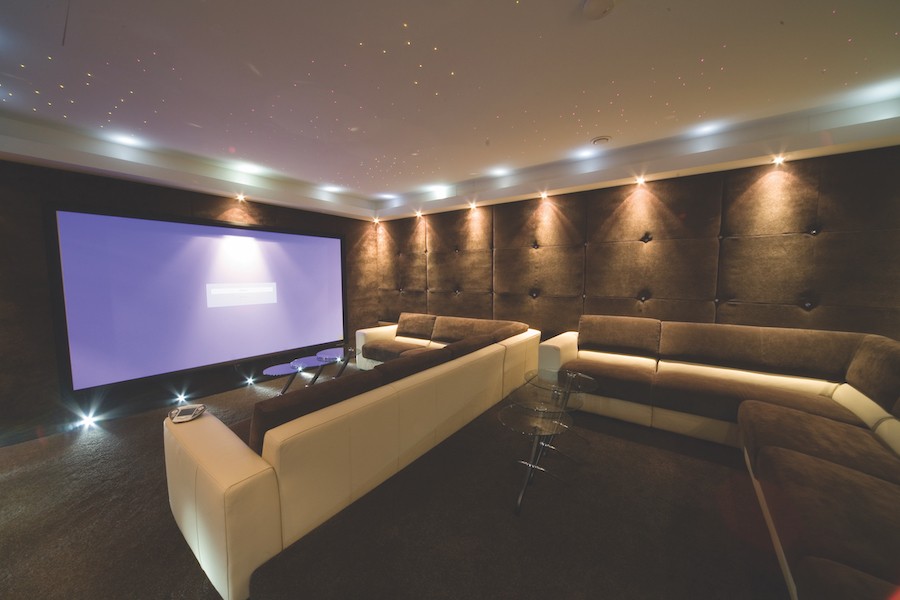 THE MOVIES CAN COME TO YOU AND PROVIDE ENTERTAINMENT, LUXURY, AND CONVENIENCE
Having a cinematic experience — lifelike pictures, captivating surround sound, dynamic lighting — isn't something you can only get at the theaters. Home theater systems are real and can be built with the luxurious, high-tech features that fit your needs and wants. With more new movies going directly to streaming platforms, it's smart to get ahead of the trend and enjoy flicks at home with your family and friends.
You can install a customizable, high-end home theater system in a dedicated theater room — or even have it in a multi-purpose media room or outdoor theater instead. There are several excellent options for your Pittsburgh, PA, home, and we'll go through them in this blog.
SEE ALSO: Your Smart Home Maintenance Plan is More Important Than Ever
THEATER ROOM
When you picture a home theater, you probably imagine a room with a wide screen, comfortable seating, and accent lighting. You can incorporate all those features and more into your theater room. Your home theater can also come with high-performance speakers to give you enveloping surround sound. JBL is an industry-leading audio brand and their Synthesis Loudspeakers are a great choice for your home theater. They offer five series of Synthesis loudspeakers with stand-out features like horn-loaded compression drivers, titanium dome tweeters, and crossover networks for the most accurate sound reproduction. By incorporating JBL's room correction technology (ARCOS) into your theater room, your system will provide the distribution you want — allowing every viewer in the space to hear the same quality of sound.
You'll also be able to enjoy customized accent lighting that you can control effortlessly through smart technology. With the touch of a button, you can program lighting in your theater room to change for various ambiances. If you want to hang out in your theater room before the movie, you can have brighter lights to fill the space. When it's time to start watching, you can activate dimmer lights by accessing your lighting system through your interface.
MULTI-PURPOSE MEDIA ROOM
If you like the feel of a homey family room, but want the room to have the capabilities of a performance home theater, you can build a multi-purpose media room. You can install a 150-inch motorized projection screen that rolls down and up whenever you please, so it doesn't always take up space. When you're ready to watch something, you'll be able to enjoy your entertainment on a screen that delivers crystal-clear 4K and 8K resolution for optimal viewing. Pair your high-end screen with a projector that can emerge from the ceiling behind you to start playing the movie of your choice.
To complete the experience, you can program your lights to dim, your blackout shades to lower, and your surround sound to kick in. You can install architectural, inconspicuous speakers that blend in with your room, and your Dolby Atmos optimized system will pack a powerful sound performance. With a multi-purpose media room, you can create a casual environment but still have essential home theater features.
OUTDOOR THEATER
Your movie entertainment doesn't have to be confined to the indoors. You can design and build an outdoor theater with weatherproof equipment that's perfect for warm summer nights in Pittsburgh. There are high-quality outdoor TVs on the market that can withstand the elements and provide anti-glare capabilities — so you'll have the ultimate viewing experience, even on the sunniest of days.
If you want speakers that complement your landscape, you can install some that mount onto your outdoor walls and others that mix well with your foliage. There are even underground subwoofers available to deliver top-notch bass. Landscape speakers can distribute audio evenly across your patio and backyard, and be placed in a way where your next-door neighbors won't hear your movie's sound.
If you're ready to build the home theater of your dreams, we're here to help. Our team at Simply Automated delivers high-end solutions and provides expertise during the planning, design, installation, and completion phases of projects. We're there for our customers every step of the way. Give us a call and schedule a no-obligation consultation with us!