Relieve Your Cabin Fever With Outdoor AV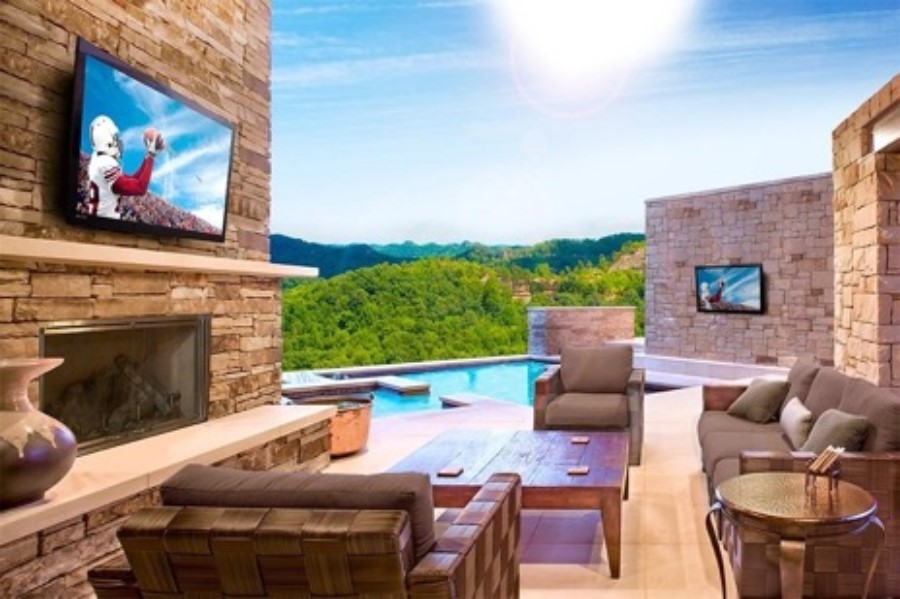 GET YOUR PITTSBURGH HOME'S OUTDOOR SPACES EQUIPPED FOR SUMMER FUN
It's not surprising that many of us are starting to get a little stir crazy at home due to the current coronavirus guidelines. While spending time indoors helps us practice social distancing, there's no reason why we shouldn't also enjoy the outdoor spaces of our home as we ride out this pandemic.
The warm weather will soon be beckoning us outside (if it hasn't already!). Relaxing summer days and nights, paired with the convenience of using smart technology, can help our physical and mental health. During times like this, that matters more than ever.
What you experience inside your smart home — like your high-end sound system, crisp TVs, and sophisticated lighting — can be extended to the outdoors as well for when the family needs a breath of fresh air. Here's how you can get an expert outdoor AV installation and customized lighting control for your Pennsylvania home this summer.
SEE ALSO: View our photo gallery for inspiration for your next outdoor project!
BRING YOUR AUDIO OUTDOORS
Listening to your favorite tunes does not have to be just an indoor activity. Thanks to outdoor speakers, you can play the artists and playlists you love from your porch, patio, and any area of your backyard.
Playing music outdoors is great for so many summer pastimes — like lounging in the pool or dining al fresco.
High-quality speakers and subwoofers don't have to be bulky or noticeable. They can completely blend in with your foliage and give you sound you can hear from every corner of your outside space.
When choosing an outdoor sound system, you'll want speakers with superior weather protection. Today's technology gives outdoor speakers the ability to withstand rain and ultraviolet radiation. Watertight seals and off-season covers help protect them from the elements, so your speakers will be safe even when it gets cold.
WATCH YOUR FAVORITE CONTENT OUTSIDE
Your outdoor living space can have an exceptional sound system and high-performance TVs that will work with any weather.
You can watch a classic movie with your family while grilling some burgers or catch the latest episode of your favorite show with some fresh cocktails in your outdoor kitchen.
Just as outdoor speakers can withstand the elements, so can outdoor TVs. Your outdoor living space can have weather-proof, anti-glare TVs that give you pristine video quality on a 4K display. You won't have to worry about compromising clarity and brightness, even with a bright sun overhead.
Combining your outdoor speaker system with your outdoor TVs for a private movie date after the kids go to bed will take your summer fun to the next level.
ENJOY LIGHTING FOR EVERY MOOD AND OCCASION
With landscape lighting, you can illuminate your entire property using special outdoor lighting fixtures. Lighting can transform the way you entertain, and you can preset lighting scenes for different occasions you'll have this summer. Maybe you want bright lights for dinner and then opt for a warmer glow for a late-night swim.
You can enjoy your outdoor lighting for solo moments, too. Want to enjoy a drink in your garden after a long workday? You can create a "relax" setting that dims your lighting outside and lets you savor your favorite wine before dinner.
CONNECT EVERYTHING WITH SMART HOME AUTOMATION
Automation makes managing your outdoor audio, video, and lighting effortless and convenient. You can control the volume and song choices for your outdoor space through a single device, and the same goes for your outdoor TVs.
With one-touch control of your lighting, you can customize your lights to change for specific moods and activities. You can even program your lights to turn on whenever you go into your backyard when it's dark and have them stay on until you're back inside. 
Smart home automation is the best way to enjoy your outside space this summer. Simply Automated solutions offer flawlessly tailored technology, and we're here to help you with outdoor AV and lighting installations for your Pittsburgh home.
Although summer is a few months away and right now we're focusing our efforts on networking and security essentials, it's best to schedule your outdoor project now so your entertainment system and lighting are ready to go when the weather is still warm.
We want to make sure we can help you get started before our schedules fill up, so please schedule a consultation by giving us a call or submitting your information through our online form!