The 5 Components You Need for a Custom Home Theater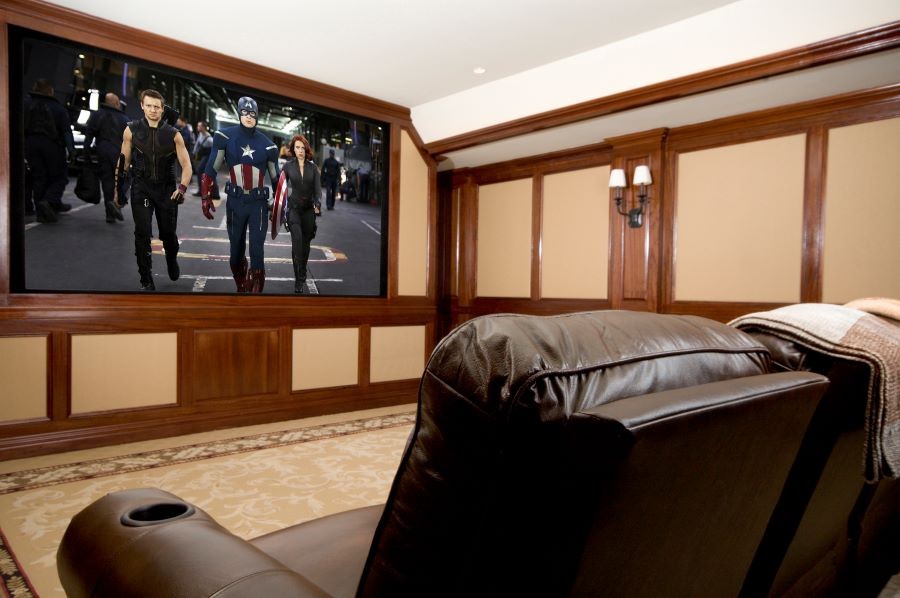 Enjoy stunning visuals and breathtaking sound in a space that's uniquely yours
Home entertainment is booming in Pittsburgh, PA this year. At Simply Automated, we couldn't be more excited to help you design your dream entertainment space. We specialize in custom home theaters that allow you to make the most of your movie, TV, sports and video game experiences. If you're considering an upgrade to a private home cinema, keep reading to learn the 5 components you need to make your theater room come alive.
SEE ALSO: 4 Benefits of Investing in a Home Theater Installation
1. A Display
The display is the centerpiece of your theater room. Our team can install a large, roll-down, projector screen and a 4K ceiling-mounted projector for the classic theater look. Or you could choose a hidden or wall-mounted 4K flatscreen TV. Whatever your preference is, we'll help you find a display that matches the size of your space and your budget.
2. Surround Sound
Surround sound with Dolby Atmos technology creates a 3D sound experience that immerses you in the action of your favorite films. You'll be able to hear every music swell, high-speed chase, and conversation as if it's happening above and all around you. A really good surround sound system makes you feel like you are part of the movie. With a wide range of speaker options available, we can design a surround sound package that will sound amazing and fit into the décor of your home.
3. Lighting Control
Smart, dimmable lighting allows you to set the room's ambience, provide illumination and highlight design and architectural features. Overhead lighting is only the beginning — your custom home theater can include strip lighting under the seats to guide people in and out and wall scones that provide a subtle glow without being distracting during a movie.
4. Comfortable Seating
Home theater seating is more important than many people give it credit for. Your seating needs to be comfortable and have adequate lumbar support for long Netflix binges, 4+ hour football games, and all-day video gaming sessions. The seating configuration should be designed to ensure everyone has a good view of the screen and receives clear, even audio.
Whether you want reclining theater seats, stadium-style seating, or a mix of chairs and sofas, Simply Automated can help you find the right configuration for your room. Choose from a selection of chair colors and fabrics to meet your style and preferences.
5. Centralized Control
One of the best parts about going to the theaters is the ease with which the experience comes together. All you have to do is sit down and let the magic unfold around you: the lights dim, the screen rolls down, and booming surround-sound envelops you in the film's opening credits.
With Control4 automation, everything can be that easy in your private home theater. Let Simply Automated integrate your theater system so that you can access and control all components from a single smart device — like a dedicated touchscreen tablet or the Control4 app on your smartphone. Create a personalized "Movie Setup" action that dims the overhead lighting, illuminates soft strip lighting, rolls down the projection screen and powers up the sound system with one touch. An "Intermission" action can pause the movie and turn the lighting on to 60% brightness while you go to the bathroom or get a snack.
The Simply Automated team specializes in custom home theater design, installation and automation for homeowners in the Pittsburgh, PA, area. See our certified Control4 showroom to experience the newest technologies firsthand! We have two locations: one in Pittsburgh — West and a second in Pittsburgh — East. Call us or fill out a contact form to set up a consultation.