The Two Solutions Your Home Needs for Year-Round Climate Control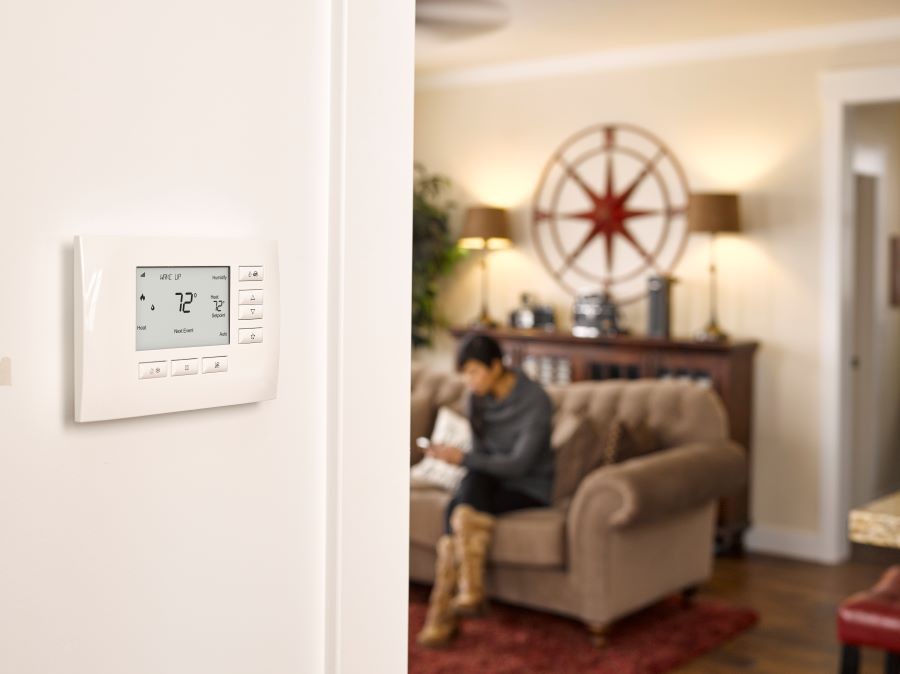 Create a comfortable and inviting home with smart climate control technology
Climate is essential for creating a comfortable and inviting environment inside your Pittsburgh, PA, home. But manually dealing with your HVAC system can be a hassle. You have to get up and adjust the thermostat when the weather fluctuates throughout the day, your house takes a while to heat up or cool down when you arrive after work, and it's impossible to find a temperature that pleases everyone in the household.
Smart climate control systems take the hassle out of managing your indoor climate. Smart systems save you time, effort, and money and leave you feeling comfortable and refreshed every moment of every day.
Keep reading to learn about the two smart solutions you need for year-round climate control.
SEE ALSO: Build Custom Window Treatments for Your Home With PowerShades
A Smart Thermostat
A smart thermostat is the hub of your climate control system. We recommend integrating your existing HVAC, fans, and a smart thermostat with Control4 home automation so that you can access and control the climate in your home through the Control4 app on your smartphone or tablet.
When you integrate a smart thermostat with Control4, you'll have access to features that help your HVAC work more efficiently (saving you money down the road!) while maintaining a comfortable indoor environment.
Presets are an easy and convenient way to ensure you're always comfortable at home, no matter the time of day or season. You can create presets by choosing specific temperature ranges, humidity levels, and fan settings for different activities, moods, and seasonal events. For example, an "Away" preset might set the temperature high and turn off all fans to conserve energy while you're not home. Or a "Sleep" preset might set a cool temperature and gentle fan circulation in the master bedroom to create a relaxing environment for sleep. You can activate presets for any mood or activity with the press of a button on your smartphone or tablet.
Another way you can use your presets is to schedule them. For example, you can schedule an "Away" preset to begin at 7 a.m. every weekday and a "Coming Home" preset to start 30 minutes before you arrive home after work. By the time you walk through the door, your house will already be at the temperature and humidity levels you desire. Schedules save you so much time and effort during the day — you don't have to lift a finger to find comfort.
You don't even have to be at home to monitor the climate in your house. Remote access allows you to view and adjust your climate settings from anywhere in the world on your Control4 smartphone app.
Motorized Window Shades
Motorized shades are another great solution for controlling the climate in your home. When you integrate your shades and blinds with Control4, you can manage them alongside your thermostat on a smartphone app or tablet.
PowerShades PoE interior roller shades work with Control4 and are an elegant solution for all your home's windows. Schedule your shades to rise and lower based on the season and outdoor temperature to keep your home comfortable. For example, schedule your shades to rise on crisp fall mornings to cool the house gently without using the HVAC, then lower during peak sunlight hours to prevent the house from overheating.
You can also automate your PowerShades to work alongside your thermostat. For example, when your thermostat hits a specific temperature point, it can trigger the shades to raise or lower (depending on the season) and heat or cool the house before the HVAC turns on. Or include the shades lowering and rising as part of your existing presets and climate schedules.
Let Simply Automated help you set up a climate control system in your Pittsburgh, PA, home. Give us a call or fill out an online contact form to schedule a consultation with our team. We look forward to hearing from you!