Safeguard Your Property and Family With a Home Security System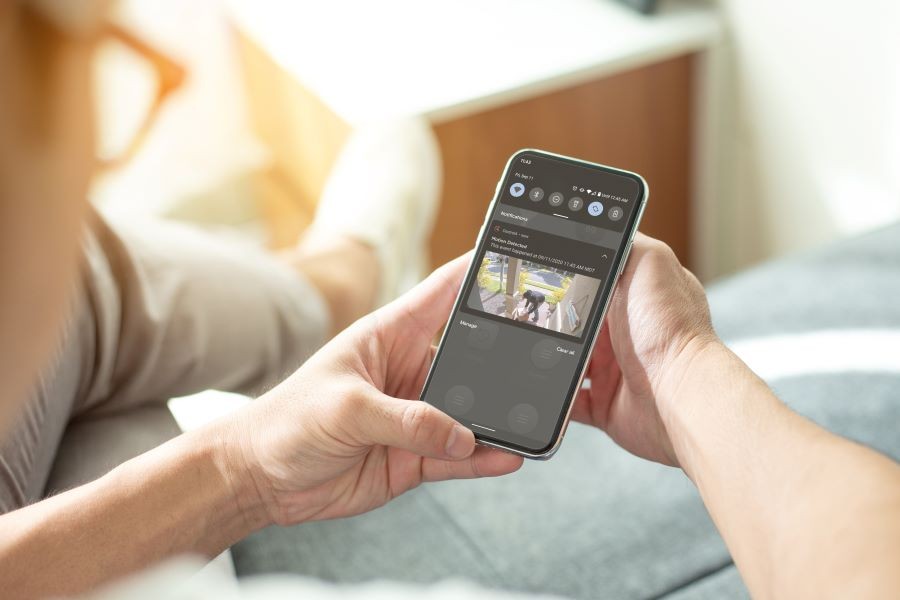 Learn about the smart devices and features you need to protect your valuable assets and loved ones
No area of technology has advanced more rapidly in recent years than home security technology. Once upon a time, homes in Pittsburgh, PA, had a single alarm system that alerted a central monitoring facility when a break-in or fire occurred. Today, homes are equipped with alarms, cameras, and sensors that proactively notify you (and a monitoring facility) when something is wrong and allow 24/7 remote access to all security systems from your smartphone or tablet.
A home security system that you can control from anywhere with your smartphone gives you peace of mind while you're at home, at work, or halfway around the world on vacation. Keep reading to learn more about the smart security devices and features we recommend to protect your interiors and exteriors.
SEE ALSO: Make Home Management Easier With an Integrated Control System
Exterior Security
Exterior surveillance cameras are a valuable tool for 24/7 oversight of your house and property. Place security cameras to watch over your garage, driveway, front door, side doors and rear doors, pool deck, patio, and backyard. Smart cameras can be motion-activated to turn on, record, and send a notification to your smartphone when movement is detected within range. Then, with remote access, you can instantly pull up the footage on your smartphone to assess the situation. We recommend investing in security cameras with high and day/night vision to capture clean, detailed video images.
Outdoor lighting is another fantastic security tool to protect your exteriors. Motion-activated porch, garage, and side door lights can turn on and spook anyone lurking too close to your house. Similarly, ultra-bright, motion-activated floodlights in the front yard and backyard may be enough to deter potential home invaders.
Interior Security
A smart alarm system proactively alerts you to any threats in your home. Receive an instant notification on your smartphone if an alarm goes off, a door opens, or a window shatters. Connect smoke, fire and carbon monoxide sensors to your system to alert you to dangerous gas levels, the presence of smoke, or an erupting fire.
Additionally, have further peace of mind knowing that your alarm system is connected to a 24/7 central monitoring service. As soon as an alarm goes off, facility responders will dispatch the authorities to your home to manage the threat. At the same time, you'll receive a notification to your smartphone that the alarm has been triggered and the authorities dispatched. Even if you can't get home right away, you can feel secure knowing that the problem is being handled.
Security cameras aren't only for your exterior security — indoor cameras can oversee common rooms and dangerous or sensitive areas like gun safes, china cabinets, security lock boxes, and alcohol cabinets. Sensor-activated cameras can alert you immediately if your child or pet wanders into a dangerous zone unsupervised.
Whole-Home Integration
Control4 automation brings your entire home security system together. With Control4, all your surveillance cameras, alarms, sensors, and other security devices will be accessible and manageable on a single device like your smartphone or tablet. When you bring your home security devices into the Control4 ecosystem, you can then use all your home technologies (including lights, window shades, and audio) to build security schedules and scenes. For example, you can build a "Vacation" scene that randomly turns on lights, raises and lowers shades, and plays music throughout the day to make it seem like someone is home. Or create a "Bedtime" scene that turns on the alarm system and outdoor lights at night right before you go to bed.
Trust Simply Automated as your professional smart security company in Pittsburgh, PA. We offer home security system installations, security smart care plans, and monitoring services to protect your family, property, and pets. Give us a call or fill out an online form to connect with our team about home security.