Brands
The Leaders of
Design

&

Innovation

Meet the companies that we call partners. They form the foundation of our product specifications thanks in part to their best-in-class performance, breadth of product offering and ongoing technological innovation.
When everything in your smart home works together, life's better — plain and simple. Control4 offers smart home solutions that deliver peace of mind, comfort, convenience, and a whole lot of wow. From smart locks, cameras and video door stations, intelligent lighting, and thermostats to universal remotes, stunning home theater setups, and audio offerings featuring high-resolution music that can stream in every room, Control4 smart living experiences can be personalized for any size home or budget.
Speak to your smart home like you would a family member or friend with Josh, a sophisticated voice-controlled automation system created by Denver-based artificial intelligence company Josh.ai.
Josh uses proprietary Natural Language Processing technology so you can command your home in whatever way feels most comfortable. Josh will learn your daily patterns and take note of your preferences to make your smart home experience more effortless than ever.
Savant was founded in 2005 with a mission to design a technology foundation that could make all homes smart, impacting the entertainment, lighting, security and environmental experiences all without the need for expensive, propriety, custom solutions that quickly become obsolete.
Savant leads the way in providing state-of-the-art products and software solutions that are inventive, easy-to-use, future friendly, and educational.
For over thirty-five years WAC Lighting has operated at the forefront of emerging technologies. Now a second-generation owner-operated company, WAC Lighting continues to elevate the industry in design and manufacturing by challenging conventions and building sustainable products responsibly.
WAC's award-winning portfolio of architectural products, decorative lighting, and landscape lighting focuses on addressing known problems or meeting unfulfilled needs with lighting solutions in residential, commercial, and hospitality settings.
DMF designs and builds LED downlighting that sets the bar for flexibility, performance, and quality. Their in-house engineering team pushes the boundaries of lighting, constantly refining products and extending our modular system. Every DMF product strikes the perfect balance between performance and value that will endure for years to come.
DMF is constantly working to keep our lighting on the cutting edge, whether that means incorporating new technology or testing for future-forward compatibility.
Since 1989, American Lighting has been dedicated to providing advanced lighting solutions that create an unique experience for every user. Their LEDs are the result of innovation, research, and attention to detail; they light the most prestigious spaces and architectural works of art, create atmospheres, and arouse emotions. 
American Lighting's passion for technology and design drives us to deliver products that allow people and the spaces around them to perform at their best.
Backed by over 20 years of home-grown, hands-on design and innovative audio engineering experience, Anthem products provide an unprecedented level of reliability and functionality; they deliver one of the industry's highest performance-to-value equations. This is just one reason why Anthem electronics are the choice of knowledgeable audiophiles, professional musicians and engineers the world over.
Anthem products are engineered to be the central controllers of your every entertainment whim, and to deliver astonishingly high performance and value for audiophiles and cinephiles alike.
A leader in high-fidelity audio since 1972, Mark Levinson was founded by a professional musician who set out to design stereo components that recreated the sound of his music exactly as he heard it in the studio. Fifty years later, that same passion continues to drive Mark Levinson to raise the bar for high-end audio.
Mark Levinson helps you discover a new layer of your music, whether it's the slightest breath an artist takes before the chorus or a hidden harmony you've never heard before.
The minds behind PrimaLuna possess a sincere desire to bring something unique to Hi-Fi enthusiasts, from beginners to tried-and-true audiophiles. We want people to feel that when they purchase any PrimaLuna, they've invested in a truly special product: that when they open the box and take it out, they're thoroughly surprised by the beauty and build quality and that when they finally play it, they're completely swept away. Delivering warm, rich and dynamic sound across all frequencies is something truly magical. It's all bundled into a dazzling chassis with PrimaLuna's standard-setting build quality and unparalleled reliability.
Founded in 1983, Sonance believes technology should disappear into architecture. This simple philosophy continues to inspire everything they do. Delivering hidden audio solutions that deliver an even, balanced sound experience that is nothing short of magical, blending into and style, installation, or budget.
Today, they are still independently owned and operated, and headquartered in San Clemente, California, where it all began. Sonance has worked hard to build an unmatched reputation when it comes to speakers, but they have also created a range of innovative, aesthetically-conscious home and business technology solutions that go far beyond sound.
James Loudspeaker has established itself as a world leader and innovator in both high-performance residential and commercial speaker solutions, providing products for exclusive homes, forward-thinking businesses and upscale marine applications.
Since 1999, James Loudspeaker takes pride in its ongoing spirit of innovation, unprecedented customization capabilities, flawless sonic reproduction and excellence in design and quality of build.At James you will find an unprecedented combination of innovative features ensuring excellence in design and quality. This combination results in an unmatched auditory masterpiece, specially designed to be of minimal visual presence.
Discover the height in high-performance sound with JBL Synthesis loudspeakers trusted by recording artists worldwide. Since its foundation in 1946, the Los Angeles-based company has been at the forefront of some of the greatest advancements in home audio and surround sound.
Studios such as LucasFilm have relied on JBL's award-winning Synthesis lineup for their cutting edge THX technologies. With the power of horn-loaded compression drivers, titanium tweeters and an artfully-crafted network of crossovers, JBL's Synthesis speakers boast the most accurate sound reproduction in some of the most luxurious home theaters across the globe.
---

Since 2008, the Wolf Cinema team has been crafting home theater excellence in Berkeley, California, building upon a tradition of proven imaging platforms with our unique techniques and technologies. Each hand-built projector undergoes an extensive battery of tests and quality control checks throughout the production process - all to ensure your home theater projector delivers reference level image quality from the start. 
Wolf Cinema is committed to providing the highest quality reference projectors for the discerning enthusiast. We specialize in studio quality displays that can reproduce the image as the cinematographer intended you to see it. Wolf Cinema Projectors are not only reference imaging solutions, but are carefully designed to meet the demands of custom installation experts, systems integration and control, client flexibility and product longevity.
A leader in the projection screen industry, Stewart Filmscreen Corporation combines elite function, value and quality in all of their products. For 70 years, their extreme attention to detail has resulted in some of the best display solutions for home theaters, digital signage and conference rooms. The designers at Stewart Filmscreen Corporation reject the one-size-fits-all mentality. Whether you need to adapt your screen to ambient lighting, rear projection or an office workflow, Stewart Filmscreen Corporation delivers the ideal model for any application.
Their display inventory includes 25 different screen materials, custom-built for each installation. Their brightness and color uniformity make them the go-to company for post-production work by major movie companies and the only screen manufacturer company with two Academy Awards.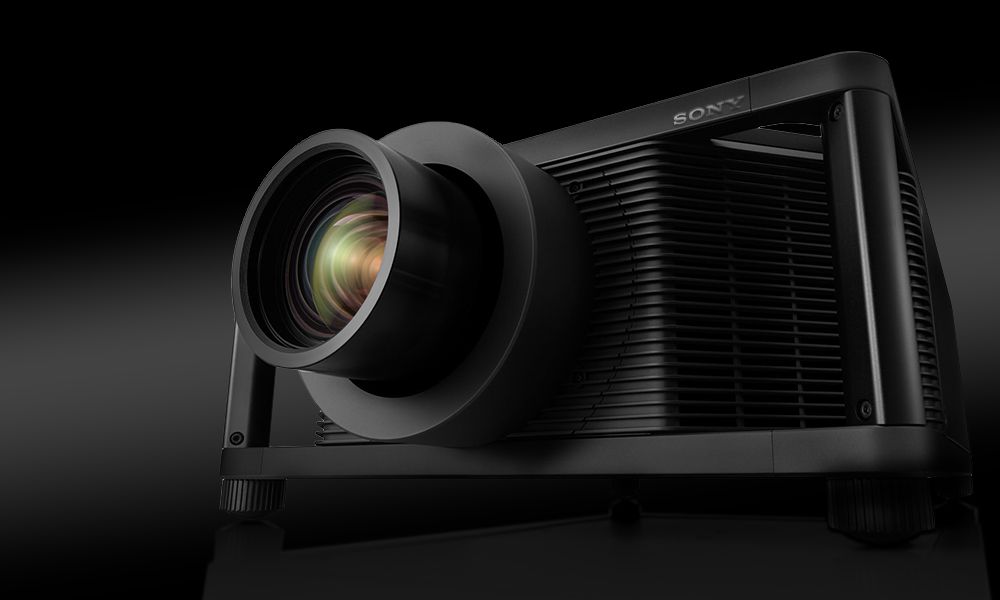 Delight your senses with professional-grade home entertainment solutions designed to harmonize both picture and sound for a breathtaking, true-to-life experience. Unprecedented contrast, color and realism are made possible with Sony's proprietary technologies that also lead in pixel-by-pixel detail for texture you can practically feel.
Whether you're outfitting a multi-purpose media room or a dedicated private cinema, Sony's line of premium 4K HDR projectors and TV displays, AV receivers and high-resolution speakers work in tandem to craft the immersive experience intended by film and video game creators.
Future Automation is an internationally established engineering company based in Britain and North America, specialising in mechanisms that conceal and reveal displays in modern smart homes, commercial spaces, and marine applications.
Designing and manufacturing a comprehensive range of lift mechanisms, wall mounts, projector mounts and drops, moving panel mechanisms, ceiling mounts and drops, and floor / table mounts that can be integrated into AV installations.
In addition to being the leader in display mounting solutions, their in-house design team offers bespoke creations for the most complex projects. This empowers us with a greater flexibility when designing spaces as solutions can now be sculpted to specifically meet your unique needs.
Enjoy personalized, American-made speakers and sound sculptures that look as beautiful as they sound when you choose Leon. Each audio solution is an elegant balance of stunning design and innovative technology, delicately manufactured in a way that helps reshape the way people experience culture. The Michigan-based manufacturer is widely known for their award-winning sound and unrivaled level of customization, building speakers by hand and to your exact specifications since 1995.
Choose from their collection of custom soundbars, ceiling and wall speakers, outdoor speakers, and even elevate the design of your TV displays with Leon's handcrafted media décor products.
Powershades delivers motorized window coverings that are easy to order, easy to install, and easy to operate. Company founders, Jason Turner and Ryan Chacon bring 50 years of combined experience in automation and controls to ignite this market. Their extensive backgrounds in furniture automation provide critical experience and insight to product development. Powershades offers window coverings for residential and commercial projects. Powershades offer thousands of fabric choices and numerous products. Innovative automation distinguishes their product and elevates it above the rest.
Their vision is to bring their expertise from various industries, including furniture, wireless charging, capacitive sensing, and industrial machinery, and direct it toward attaining a specific level of automation to the Motorized Window Covering industry.
Bring the Best-in-Class to Your Home
Connect with us to learn more about how these industry-leading brands work together to create your dream smart home or business.